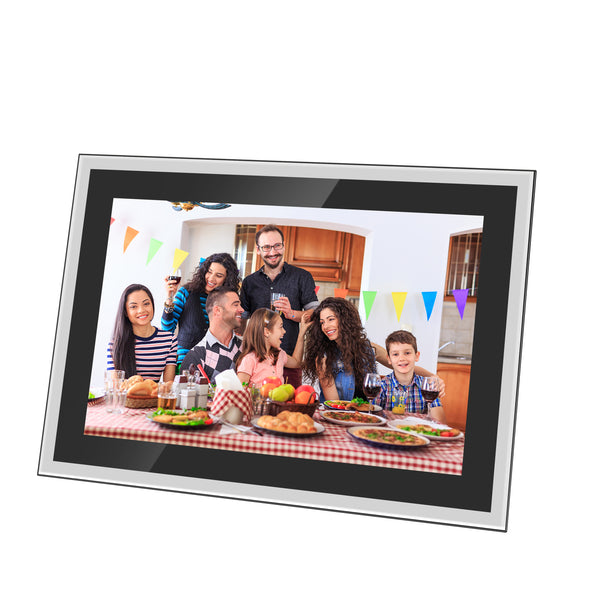 MODEL NO.:  HN-DPF1002BLACK
Feelcare 10 Inch 16GB Smart WiFi Digital Picture Frame, Send Photos or Small Videos from Anywhere, Touch Screen, 1920x1200 IPS LCD Panel, Wall-Mountable, Portrait and Landscape(Black)
Product descriptions:
INSTANTLY SHARING YOUR MOMENTS,BEST GIFT FOR YOUR LOVED ONES: Send photos or small videos (max. 15 seconds) directly to Feelcare photo frames from anywhere in the world, friends and family can enjoy your wonderful moments within seconds on feelcare photo frames. With 16GB internal memory offers you a big storage capacity of photos. Best gift for Mother's day,Father's day and Christmas.
FULL GLASS TOUCH SCREEN & FULL HD IPS LCD DISPLAY: Full glass front makes it more fashionable, stable and high-class. Wonderful 10 inch full HD IPS display (1920x1200) with wide viewing angles. The touchscreen allows you to easily set up the frame and slide between all your photos and play videos. The detachable stand lets you view photos in both portrait and landscape mode.
DUAL BAND WiFi & EASY SET UP: IEEE802.11/a/b/g/n dual band WiFi 2.4GHz and 5GHz, comprehensively enhance the WiFi receiving signal, fasten WiFi transferring speed, extended WiFi connection and superior stability. User-friendly interface makes it easy-to-use for all ages, only few steps to complete the setup.Also with micro USB port and Micro SD card slot.
FREE APP & EASY SHARE: The free smart phone app (Frameo) is available for both Android and iOS for direct photo and video sharing. You can send photos or small videos to the photo frame anytime anywhere, no need creating an account, no need Facebook or email account. Also with micro USB port and micro SD card slot, its so simple and easy!
PORTRAIT & LANDSCAPE & AUTO ROTATION: with a detachable solid rack as a frame stand, allowing you to view the photos in either portrait or landscape mode. Wall mountable feature allows you to put the frame on the wall as you wish. And photos can automatically rotate.
PRIVACY & SAFE & WORRY-FREE WARRANTY: Using Secure Device Grid (SDG) for safe end to end encrypted communication, Smart Phone App does not store or have any access to the photos. Photos are only saved locally on the photo frame. WARRANTY: Lifetime support, one year warranty, prompt response within 24 hours
Features
Easy to use with touch screen

Designed with 5 point touch panel, it's easy for user to setup the frame and manage photos conveniently.

FULL GLASS TOUCH SCREEN & High Definition IPS Panel

Full glass front makes it more fashionable, stable and high-class.

High definition with resolution 1920X1200 IPS/16:10 panel shows bright photos from any viewing angle. Picture format supported: JPEG, PNG.

DUAL BAND WiFi &WiFi-connected

Comprehensively enhance the WiFi receiving signal, fasten WiFi transferring speed, extended WiFi connection and superior stability.

Just put the photo frame with wifi(2.4GHZ/5GHZ) connected, then you can receive photos and small videos from all your friends and family members from anywhere in the world, and enjoy the moments as they happen.


Free app & Easy Share

The free smart phone app (Frameo) is available for both Android and iOS for direct photo sharing. You just need download the app to your smart phone, pair your smart phone to the photo frame, then you can send photos or small videos to the frame anytime anywhere, no need creating an account, no need Facebook or email account, its so simple and easy!

Privacy & Safe

Using Secure Device Grid (SDG) for encrypted safe end to end encrypted communication between our smart phone app and our Feelcare photo frame, it ensures that pictures are kept private and only decrypted and stored locally on the photo frame.

Upload & Backup & Restore Photos

You can import photos from micro SD card(max. 32G) or USB drive(max. 64GB, the frame is with micro USB port) to the photo frame. You can also backup all your photos and videos securely to a micro SD card thus you can restore all your photos or videos in case the photo frame is reset.




Portrait & Landscape & Auto Rotation& Wall-mountable

With a detachable solid rack as a frame stand, allowing you to view the photos in either portrait or landscape mode, and photos can automatically rotate. The frame can be mounted on the wall too.

Captions

You can add captions/messages to the photos or videos you want to send,which makes the photos more personal and fun

Sleep Mode

The default sleep time is from 11pm to 7am, you can set it to your convenient time.

Multiple Connections

One feelcare wifi digital picture frame can connect to multiple users, and one person can connect to multiple feelcare frames. You can send photos or videos to different Feelcare wifi frames  at the same time, and all your l